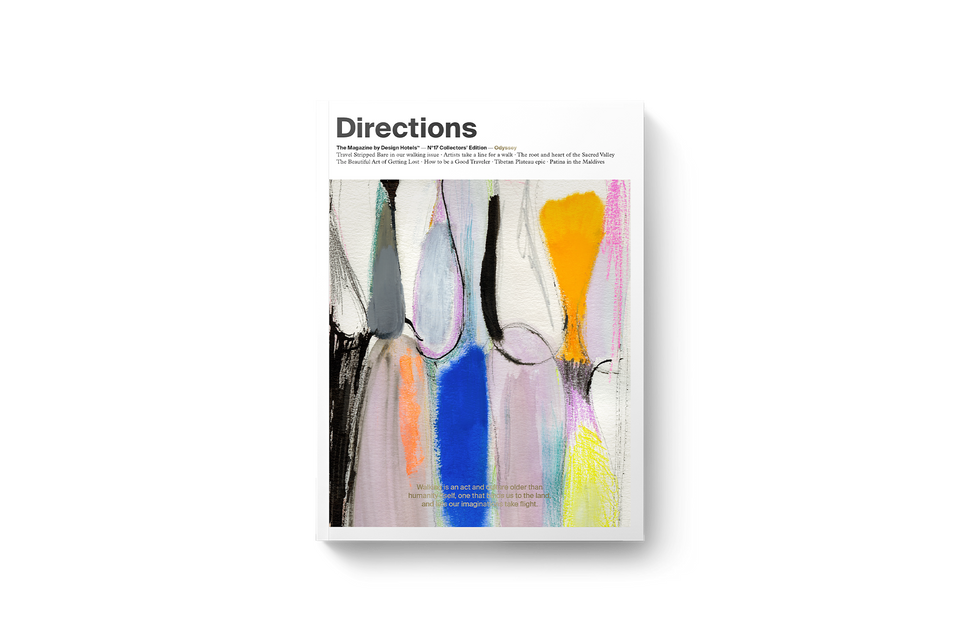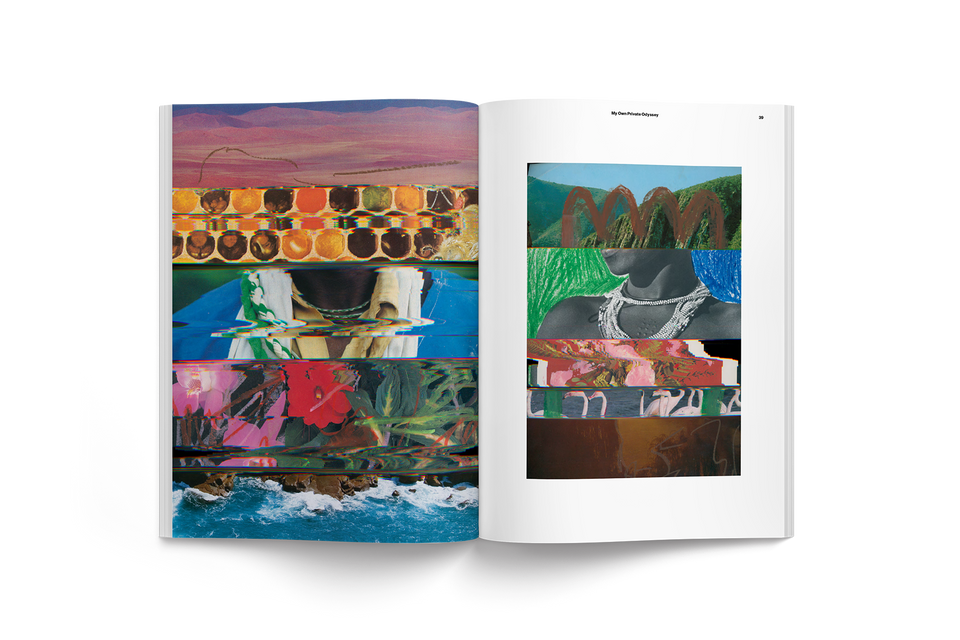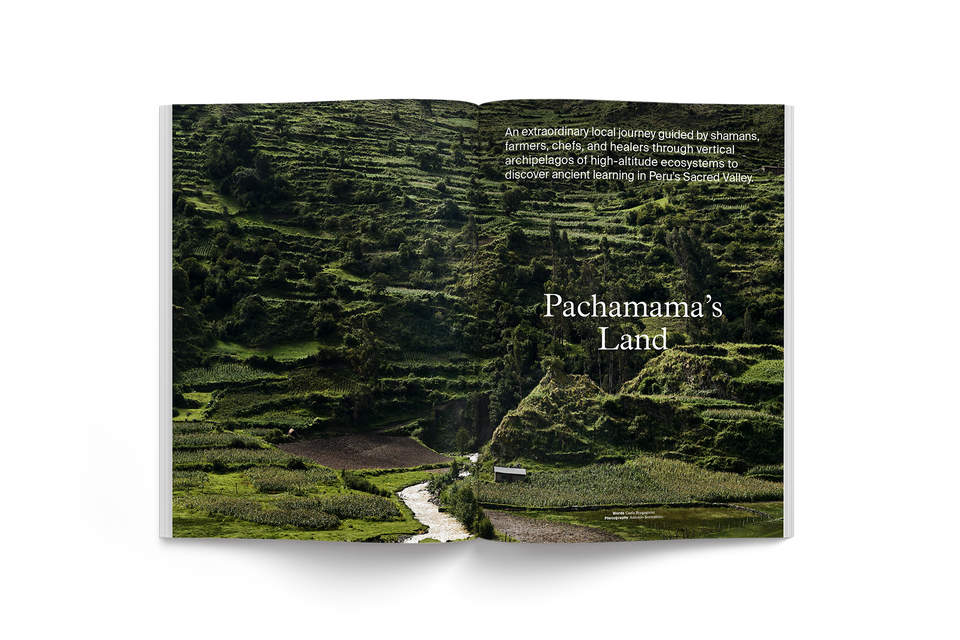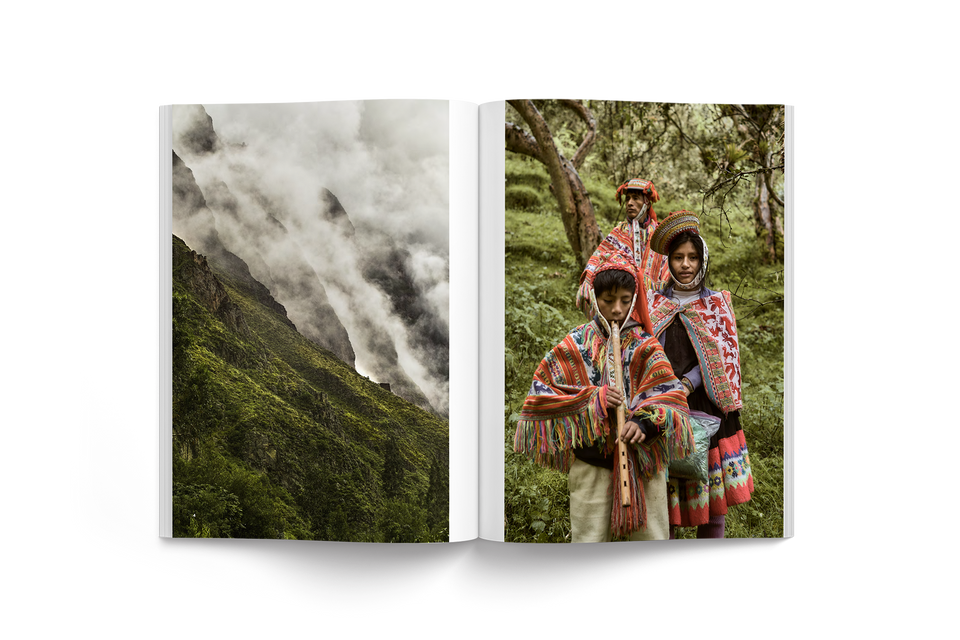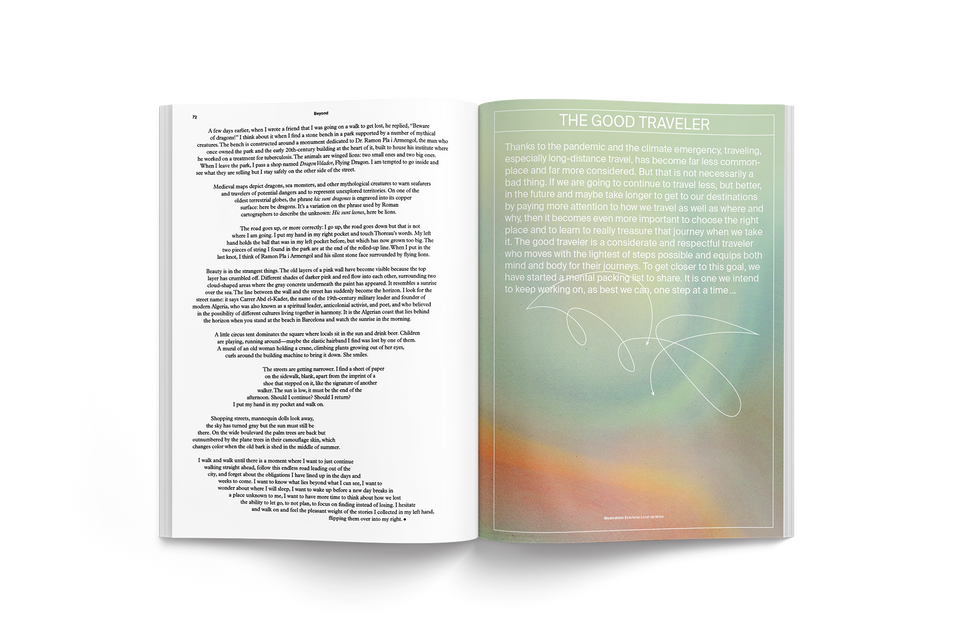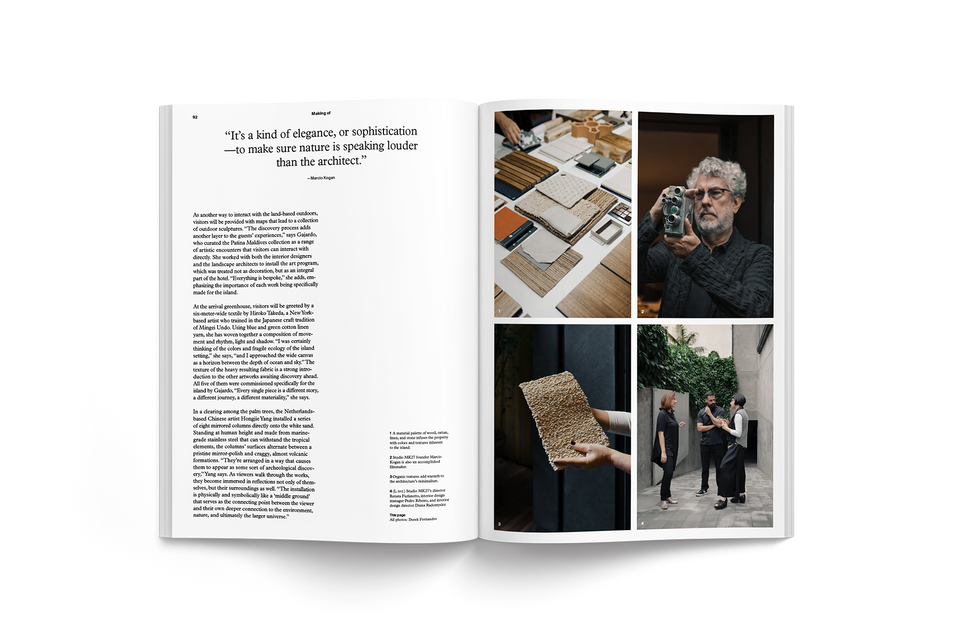 Directions — The Magazine by Design Hotels (2021 Collector's Cover)
DIR2021COLL
Tax included.
Shipping
calculated at checkout.
Odyssey — Collector's Cover by artist Linda Linko 
Directions is our annual magazine that looks at movements in travel, art, design, food, and wellness, and how they affect the way we live and move around this planet. Featuring artists, thinkers, writers, photographers, illustrators, and designers, Directions explores a different theme in each issue, gathering the insights of varied voices from around the world into a vividly rich travel compendium. 
This year's issue "Odyssey" explores the central theme of Walking—something so universal and intimate at once—and invites a broad range of voices to take a conscious exploration of this simple act. There is something in the simplicity of walking that binds our collective imaginations and reveals adventures to come. 

Stories in this year's Directions include:

Travel Stripped Bare: Travel author and avid wayfarer Jini Reddy walks us through the impact and significance of walking and reminds us just how empowering, inclusive, and inspiring it can be.
My Own Private Odyssey: For this collective odyssey, we asked a range of artists, writers, and designers from around the world to develop creative expressions resulting from walking near their home base—in whatever medium they chose.
Pachamama's Land: An extraordinary local journey through vertical archipelagos of high-altitude ecosystems, discovering ancient plant lore in Peru's Sacred Valley. 
The Beautiful Art of Getting Lost: Walking is a way to come home, to connect with the world. There is no map with the best route for that.
The Good Traveler: Ten principles that are ten steps towards promadic traveling with a lighter, more careful footprint. 
So Far Away, So Near: An invitation to a nomadic settlement in Gansu province, comprising 230 families, 6,000 yak, and 20,000 sheep.
The Making of Patina Maldives: In the fragile tropical ecology of the Fari islands, Brazilian architects MK27 are seeking to connect inside to outside and nature to experience, with architecture and art.
Design Hotels Walks: We asked our hotels to share their most picturesque, challenging, and inspiring walks, and turned it into an interactive series.
Available exclusively through our online store, the Directions 2021 Collector's cover features commissioned artwork from Helsinki-based artist Linda Linko and gold embossed lettering. Versed in visual art, pattern design, poster art, and experimental typography, Linko takes a conceptual approach to beautifully explore our central theme of Walking and illustrate our lead essay, Travel Stripped Bare.

As a gift to our Community, we are pleased to offer complimentary access to the digital version of Directions 2021, the magazine by Design Hotels. Access now. 
Got your Directions? Simply post an image of the magazine on Instagram, tagging us with #FindYourDirections.